Doctor Zhivago (1965)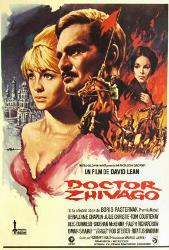 I first watched this movie in high school, after my mother's incredulous reaction that I'd never seen it. I think I had to read the book, or maybe we were discussing it in school for history class.
Based on the 1957 novel by Boris Pasternak, the movie is set in Russia between the years prior to World War I and the Russian Civil War of 1917-1922. Before the movie was produced, the book was banned in the Soviet Union. Therefore, the movie was not allowed to be filmed there!
Omar Sharif is incredibly handsome, and Julie Christie is beautiful. There is an ensemble cast, including Sir Alec Guinness.
Critics were initially disappointed, particularly with the run time of more than three hours. However, the film's reputation has improved.
The movie was nominated for a total of ten Academy Awards. It won five: Best Adapted Screenplay, Best Original Score, Best Cinematography, Best Art Direction, and Best Costume Design. Four of the five other nominations, including Best Picture and Best Director, went to The Sound of Music. The film also won five Golden Globes out of its six nominations.
If you haven't seen it, I highly recommend it. It's an intense love story set in a volatile history in history.
---
Come back tomorrow for a new movie!
---
Until the next headline, Laura Beth 🙂